Bike lovers surely do not need a reason to take their bikes out for a spin. Nonetheless, embarking on a cross terrain bike trip is a goal every biker hopes to cross off their bucket list.With the beauty of Nature surrounding you and untold adventures opening up ahead, a trip like this makes you feel alive and free, and transports you away from the city to the mountains where you can find quiet and peace. It not only refreshes your mind and body, but also tests your skills and passion as a rider.
As exciting as cross terrain bike rides sound, they however need a different approach than the one used in a casual ride around the city. Cross terrain bike trips call for a powerful bike that can withstand all kinds of weather and road conditions, as well as strong fitness, manoeuvring and skills on the part of the rider. But even with all this, if you do not have the right motorcycle safety gear, nothing matters as you will still be vulnerable to accidents and mishaps. Zeus Motorcycle Gear provides a range of riding safety gear that protects you from unforeseen conditions and allows you to safely and peacefully enjoy your cross-terrain trip with your beloved bike.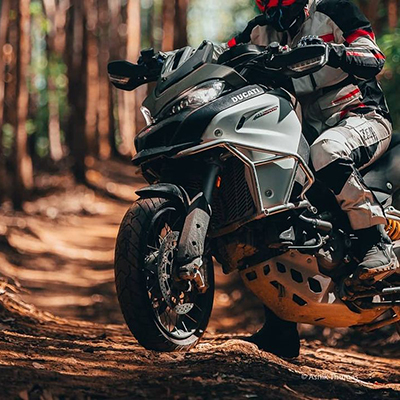 Zeus as a brand is built on the vision of an avid bike riding founder, who goes the extra mile to factor in the myriad challenges and issues faced by fellow riders and himself, thus ticking all the boxes to fulfill the demands and requirements of the biking community. The wide range of safety gear rolled out by Zeus is not only stress-tested at extreme riding conditions but is also smart enough to elevate the riding experience as a whole.
Headfirst,Zeus helmets come with a soft EPS lining to ensure that the head fits in snugly and perfectly. As cross terrain travels involve valleys, Zeus helmets come with optically correct sun visors to protect the rider from the harsh sun rays that can affect vision. These helmets are also equipped with air vents at the front and the back to provide ventilation,thus making sure that the rider doesn't get tired easily and sustains energy in the long ride.
Zeus jackets are abrasion-and crash-proof. They are CE certified, which marks their international quality,and also come equipped with an NFC chip to make sure that the rider enjoys connectivity at all times. The jacket comes with an in-built notification feature that enables the rider to send periodic updates to their contacts, informing their family of their safety. It also comes with an in-built SOS feature that gets activated in case of heavy impact or a fall. The NFC chip also comes with rider location tracking in case of group trips,along with a notification feature for all important stops such as fuel stations, restaurants, lodges, restrooms, etc.
Zeus gloves come with a knuckle panel, wrist closure flap, and a palm slider for superior grip and comfort. The gloves are waterproof along with touchscreen-compatible fingertips to allow the rider to use their smartphone without taking off their gloves. The make of the Zeus gloves is such that they come with an in-built mesh and leather that is structured for maximum ventilation. Thus, the Zeus gloves have an all-weather utility to protect the rider from the cold, heat and rain.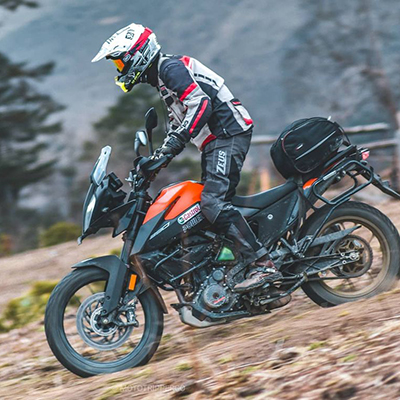 Zeus denims come with international CE certification, which guarantees that they provide complete safety and protection to the rider. The rider's seating grip is crucial to gain proper control over the bike. Moreover, the rider's knees are always the first point of contact to be affected in case of accidents. Zeus denims are built with Kevlar at the seat and the knees to provide the kind of protection that every biker seeks. It come with added features of removable hip and knee armor for an extra layer of protection, which can be added at the rider's liberty.
Feet being the last but not the least, Zeus boots are designed to make gear changing simple, easy and compatible for all bikes. It utilizes microfiber and genuine bonded leather with 3 layered waterproofing membrane to ensure protection from water splashes along with in-built vents for ventilation,thus making it all-season and rider friendly.
Cross terrain trips are an essential part of every biker's riding experience and must be embarked on at least once in a lifetime. It is the ultimate test of all the resources that a biker has, i.e., the bike, the riding safety gear, the biker's health and riding skills. It's a smart decision then to invest in long-lasting, sturdy motorcycling riding gear,so that you conquer every high mountain and every low valley and remain safe during the ride as well as the rides to come!