Ritesh Ved - The Man Behind Zeus Motorcycle Gear
A biker at heart, everything that Ritesh Ved, Founder of Zeus Motorcycle Gear, does is driven by his passion and love for biking. On his quest for motorcycle safety gear, Ritesh found the market lacking in high-quality gear that can ensure the biker's safety without compromising on style and comfort. Recognizing the need for premium motorcycle safety gear, Ritesh founded Zeus Motorcycle Gear to cater to this niche yet important market.
Armed with an MBA in Operations Management from the University of Technology in Sydney along with 6 years of corporate experience with leading names in bike manufacturing,  Ritesh is out to deliver premium riding gear that ensures the safety of bikers as well as those around them on the road. He strives to roll out products that meet bikers' needs of safety, style and connectivity. As an avid biker who regularly goes for all-terrain rides around the world, Ritesh spends hours in developing products to improve the functionality of riding safety gear and make them stand out from the crowd.
Ritesh's vision is to make Zeus the No. 1 brand in the motorcycle gear segment known for its unique style and safety features that keep the end user in mind. His vision is the driving force that wakes him up every day and pushes him to not only develop new products in the segment, but also deliver superior customer response by solving bikers' grievances and incorporating their feedback in Zeus' products. His highly customer-centric attitude with strong feedback mechanism coupled with his strong risk appetite is an underlying factor of Zeus' rapid success in this segment.
On any given day, Ritesh can be seen in his office surrounded by a fresh batch of his products, where he first holds a meeting with his core team, discussing targets, backlogs and to-do lists. Post that, he communicates with his production team abroad about deliverable s and timelines. He has a dedicated team that looks after sales and customer service in both online and offline channels. Ritesh's robust feedback mechanism provides valuable inputs for conceptualizing and implementing new ideas and products. The latter half of his day is spent in training and educating channel partners, understanding their concerns and developing strategies on how the business can grow.
On weekends, when Ritesh is not creating superior quality biking safety gear or going for a ride on his beloved bike, he can be seen spending time with his family and playing with his son or watching Arnold Schwarzenegger's and Adam Sandler's movies, and playing musical instruments and sports. A self-confessed foodie, he also enjoys conjuring up gourmet delights in his kitchen, watching food shows, and exploring new places and restaurants with his friends. He is also a Jungle Survivor Champion, Lifeguard Angel, and Grade 7 qualified pianist from Trinity College, London. Ritesh believes in giving back to the society and takes an active role in promoting the welfare of orphanages, old age homes and animal safety organizations such as Blue Cross.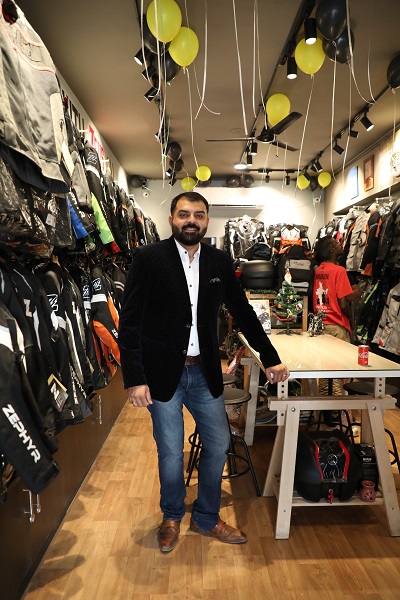 Safety is not about being reactive. It's about being proactive.
– Ritesh Ved, Founder,
Zeus Motorcycle Gear
Ritesh's Philosophy
Ritesh's philosophy and way of life is a powerful guide for any person who desires to become successful and happy. Simple but meaningful, his life lessons are as follows:
*  If you don't do what you love, you should love what you do.
*  Money is important, but earn only that much that is required to satisfy human needs and wants, and not to just flaunt before the society. Otherwise, the money that you have will never feel enough and you'll end up missing on the important joys and pleasures of life in the constant quest for wealth.
* Always remember, the possibilities are endless. Keep working towards your dream and don't worry about the way your life is moving. Time will answer all those questions that are out of your control.
* Keep learning and stay creative, honest, patient, flexible, dedicated and dynamic.